Support for Individuals Transitioning out of the Criminal Justice System
AHCCCS has partnered with state and county governments to improve coordination within the criminal justice system. Our shared goals include creating a more cost effective and efficient way to provide access to critical healthcare for people released from incarceration. A significant number of men, women and children transitioning out of jail and prison into communities are in need of services for behavioral health and physical health conditions. Many of these individuals are eligible for Medicaid.
Targeted Investments
Targeted Investments is an AHCCCS-funded program that integrates services for individuals with significant mental health needs. Part of the program is dedicated to serving probationers and parolees who can meet with their probation or parole officer and in the same visit receive the healthcare and wrap-around services they need.
Hear stories of recovery and testimonials from people involved in the criminal justice system who have received care from an AHCCCS Targeted Investments health clinic in Arizona. With this video, AHCCCS hopes to encourage anyone who is on probation or parole in Arizona to seek out health care services from Medicaid (AHCCCS), including help with physical and behavioral illness, substance use disorder, housing, employment and more. Learn more...
Video - Short Version | Full Version
Help for Medicaid Members Who Become Incarcerated
Federal law prohibits states from using Title 19 Medicaid funding to pay for healthcare for individuals who are incarcerated. State and local funding is utilized during the period of incarceration. In order to reduce disruption of care for individuals exiting incarceration, AHCCCS provides an "enrollment suspense & reinstatement" process statewide for AHCCCS members who become incarcerated. This enrollment suspense & reinstatement process reduces the number of individuals who would otherwise have their AHCCCS care terminated. Through this enrollment suspension & reinstatement process, care can be coordinated by county jails or prisons upon discharge. Each AHCCCS health plan has a dedicated Justice Liaison to assist jail and prison representatives with this coordination of care.
To facilitate this transition, AHCCCS is engaged with the Arizona Department of Corrections (ADOC) and most Arizona counties covering the majority of the State's population, including the two largest – Maricopa and Pima – in a data exchange process that allows AHCCCS to suspend eligibility upon incarceration, rather than terminate coverage. This exchange also allows ADOC and counties to electronically send release dates, which simplifies the process of transitioning directly into care. Through this enrollment suspension process, care can be coordinated by county jails or prisons upon discharge. To support this, all AHCCCS Managed Care Organizations (health plans) are contractually required to have a justice systems contact that can ensure a connection to needed physical and behavioral health services.
Hospital Inpatient IGA
AHCCCS has intergovernmental agreements in place with the majority of counties in AZ (including Maricopa and Pima) and ADOC to provide services to people in detention who are admitted temporarily into an inpatient hospital setting. This process includes a determination of eligibility for AHCCCS. When a detainee is released from custody temporarily to an inpatient hospital setting, designated staff assist the detainee with completing an application for AHCCCS Health Insurance. The application is submitted to a special unit that determines AHCCCS eligibility for the specific period of the hospital stay. When the detainee is determined eligible, the hospital will submit a bill to AHCCCS to pay for the brief hospital stay.
Pre-Release Applications
ADOC and most AZ counties (including Maricopa, Pima and Navajo) submit pre-release applications via HEAplus for AHCCCS Health Insurance approximately 30 days before detainees are released from incarceration. If additional information is required, these applications are submitted to special units at AHCCCS and the Department of Economic Security (DES) for review and processing. Staff in these special units review the applications for eligibility and approvals become effective when the applicant is released from custody. Submission of applications prior to release helps to ensure that people who need critical care are enrolled in AHCCCS immediately upon their release.
Individuals who are at risk of needing an institutional level of care upon their release, receive a pre-admission screening while incarcerated and have a Medicaid application completed. When eligible, the member is connected to the Arizona Long Term Care System (ALTCS) program and placed into a long-term care setting immediately upon their release.
This pre-release application process is available to all state and local correctional settings. Please contact us at 602-417-4065 if you are interested in beginning this process in your correctional setting.
Care Coordination
All AHCCCS Managed Care Organizations (MCOs) are contractually required to provide "reach-in" care coordination to identify members with complex health needs prior to their release from incarceration. MCOs (including Regional Behavioral Health Authorities (RBHAs)) connect case managers to members pre-release to provide information and schedule appointments with primary care physicians and behavioral health providers, as appropriate.
Information to Assist People Who Are Exiting Incarceration With Accessing Healthcare
When individuals releasing from incarceration seek assistance with accessing Medicaid (AHCCCS) services, the following documents should be used to capture important information to help navigate the system:
Quarterly Criminal Justice Systems Transitions Meetings
Each quarter, AHCCCS hosts a meeting to bring together partners from around Arizona to discuss challenges, barriers and best practices associated with assisting individuals with reentry following incarceration. Criminal justice stakeholders, providers, AHCCCS health plans and others who have a vested interest in assisting this population are welcome to attend.
Meetings and Materials
Results of the Strategic Plan to Increase Access to Care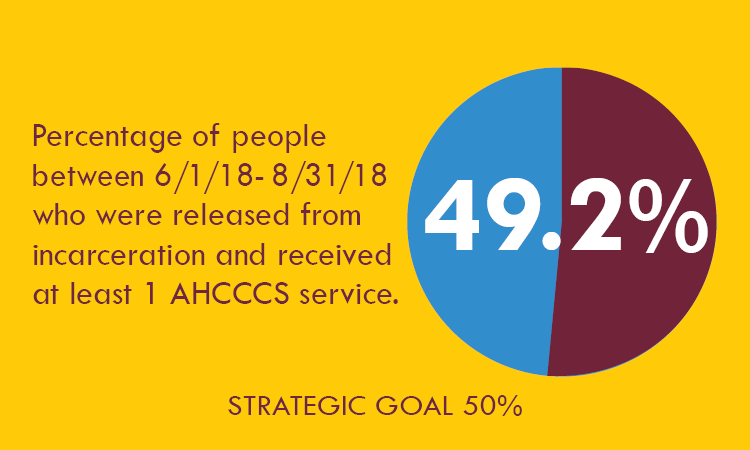 More information about the Justice System Transitions can be found below: