All About OIFA
OIFA Strategic Plan 2020 - 2023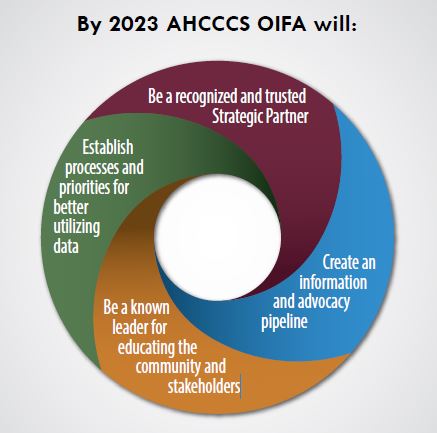 History of OIFA
Arizona's Office of Individual and Family Affairs was established in 2007 during a summit hosted by the Arizona Department of Health Services/Division of Behavioral Health Services (ADHS/DBHS). Read reports from the 2007 summit and the 2009 summit.
OIFA is committed to engaging the community and fostering change from within. The 2011 Raise Your Voice report is one example of how community engagement creates real change. Raise Your Voice, the product of a campaign led entirely by peer and family members, was instrumental in the drafting of revised court orders for Arnold v Sarn in 2012. Members of the community were involved at every stage of the process, and the report is written using their own words.
In 2019 the OIFA Advisory Council members engaged in a strategic discussion about OIFA 2.0 – exploring our past accomplishments, opportunities for growth, and recommended areas of focus moving forward. Other efforts to gather community voice paved the way for AHCCCS OIFA to develop the OIFA 2.0 summit. In October of 2019, along with community stakeholders, came together at an all day summit to renew the vision and position the Office for success as a driver in system transformation efforts - OIFA 2.0.
Director Jami Snyder discusses the importance of OIFA at AHCCCS, and what impact OIFA has had on the physical and behavioral health integration efforts.
If you are experiencing challenges and/or barriers to service, the AHCCCS Office of Individual and Family Affairs (OIFA) wants to hear from you. Please take a moment to write down the biggest challenge you and/or someone you know face when accessing services.