Members Who Use Children's Rehabilitative Services (CRS)
English
Español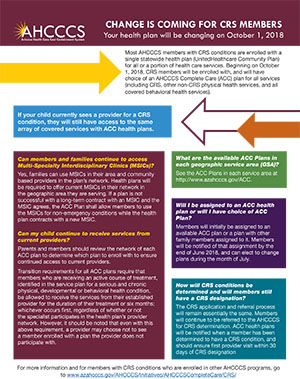 Download and print the ACC CRS information flyer in English or Spanish
Most AHCCCS members with CRS conditions are enrolled with a single statewide health plan (UnitedHealthcare Community Plan) for all or a portion of health care services. If your child currently sees a provider for a CRS condition, they will still have access to the same array of covered services with ACC health plans.
Beginning on October 1, 2018, these members will have choice of an AHCCCS Complete Care (ACC) plan for all services (including CRS, other non-CRS physical health services, and all covered behavioral health services).
Children in Foster Care with CRS Conditions
Children in foster care with CRS conditions will continue to be covered by the Comprehensive Medical and Dental Program (CMDP) for physical health services including services for any CRS condition(s) and will transition to the Regional Behavioral Health Authority (RBHA) in their area for any necessary behavioral health services.
Efforts are underway to integrate all physical and behavioral health care in the CMDP by October 1, 2020.
Members with Developmental Disabilities in Long Term Care (ALTCS) with CRS Conditions
Members with developmental disabilities and CRS conditions will remain with UnitedHealthcare Community Plan for physical and behavioral health services related to their CRS condition, and will use their assigned DDD health plan for all non-CRS related physical health services.