Suicide Prevention
National Suicide Prevention Lifeline: 1-800-273-8255
Nacional de Prevencion del Suicidio: 1-888-628-9454
Chat: Suicide Prevention Lifeline Chat
Priority Populations:
The majority of those who die by suicide in Arizona are age 65 and older. While there is no one cause of suicide, hopelessness and isolation are often factors. The Area Agency on Aging has an Eldervention Program, including a 24-hour senior help line – 602-264-4357.
For more information: Eldervention Program
What you can do:
Depression is not a normal symptom of aging. If someone in your life is experiencing depression or increased substance use, have a courageous conversation and ask if he/she is considering suicide. Learn the warning signs and how to refer a person to care: How we can all prevent suicide
Check on your neighbors. If you haven't seen an older neighbor or friend lately, stop by and see how he/she is.
Volunteer with seniors in your community. Connectedness and friendship are protective factors against suicide.
Suicide rates are higher for all individuals who served in the military. A US Department of Veteran Affairs report in 2016 found the suicide rate among those who served in the military was significantly higher than the national rate, with the most deaths among those aged 55-74.
Be Connected is a collaborative effort among multiple partners, including AHCCCS and the Arizona Department of Veteran Services, to connect Arizona service members, veterans, families and helpers to information, support, and resources, including a 24-hour help line: 1-866-4AZ-VETS. For more information visit Be Connected.
What you can do:
Recognize those in your life who served in the military are at higher risk for suicide. Learn the warning signs and how to refer a person to care: How we can all prevent suicide
A protective factor for suicide prevention is family and community support. Reach out to those in your life who served in the military.
Volunteer with a veteran service organization. A directory can be found here: ADVS Veterans Service Organization VSO Directory
Resources:
Recognizing depression in teenagers can be difficult. Abnormal sleep patterns and changes in mood are common in teens, but both can be warning signs for suicidal thoughts. Depression in teenagers varies from adult depression. Teenage symptoms that are more common include:
Irritable moods
Unexplained aches and pains
Extreme sensitivity to criticism
Withdrawing from some aspects of social life
Teen Lifeline is an Arizona-based nonprofit that provides a safe, confidential crisis service where teens help other teens to make health decisions: 800-248-8336. Teen Lifeline has resources for teens, parents, and educators on what to do if a teen is thinking about suicide: My teen needs help
LGBTQ teens can speak with a peer through The Trevor Project: 1-866-488-7386. The national organizations provides crisis intervention and suicide preventions services to LGBTQ youth younger than 25. Chat and text features are also available.
AHCCCS has partnered with the Arizona Department of Education on a five-year Project AWARE grant. This project works with school districts and educators to promote mental health and suicide prevention trainings. More information about the project can be found on the AWARE Fact Sheet.
What you can do:
Learn the warning signs for suicide among teens and how to refer a person to care: How we can all prevent suicide Volunteer for a community-based organizations working with youth. A strong relationship with an adult can be a protective factor against suicide. Ask your school to participate in the free Teen LifeLine school ID initiative: Arizona School ID Initiative
For American Indians, suicide is the second leading cause of death, especially among youth. Arizona is home to 22 diverse tribal nations and a significant urban American Indian population. One objective for the 2019 State Plan to End Suicide is to work with each of these 22 nations in the creation or strengthening of a tribe-specific suicide prevention plan. This work is in coordination with the Governor's Office for Tribal Relations.
The Suicide Prevention Resource Center has a comprehensive approach to preventing suicides among American Indians. This includes:
Promoting culturally competent practices.
Connecting a community or tribe's resources to a shared vision of wellness
Gathering information from Elders and community members to understand suicide among the community.
What you can do:
Know the cultural risk factors for suicide among American Indians, a how to refer a person to care: How we can all prevent suicide
Consider making a safety plan for if/when you feel depressed or suicidal. A protective factor for suicide includes having a strong support network. Knowing who to call when you feel depressed or suicidal can help in crisis.
Practice active listening; listening to someone who is depressed or having suicidal thoughts, without offering advice or judgment, is courageous.
Advocate for the importance of suicide surveillance systems, including building relationships with respected community members.
Speak with tribal councils, school boards, and other community leaders about the need for suicide prevention resources.
In 2019, the Arizona State legislature passed a bill mandating all public school staff be trained in an evidence-based, best practice suicide prevention training at least once every three years.
AHCCCS has selected evidence-based training materials that schools can use to meet this requirement, posted on the Suicide Prevention Training for Schools (Senate Bill 1468).
Other resources for schools:
Resources by County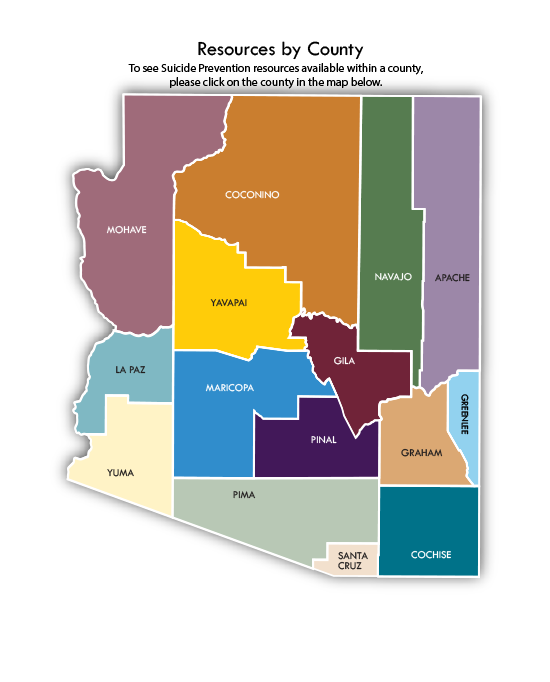 Other Tools and Resources:
Other resources:
Means Reduction:
Suicide Prevention for Faith Leaders
Best Practices for Media Reporting on Suicide
Calendar of events