AHCCCS Whole Person Care Initiative (WPCI)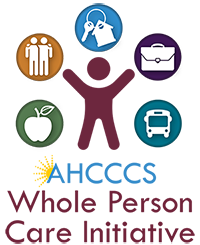 Growing national research on the social determinants of health suggests that access to quality health care contributes only 20% to an individual's overall health and well-being while social risk factors, behaviors, and physical environment contribute 80%. Critical social risk factors that influence an individual's overall health include food insecurity; housing insecurity; lack of transportation; access to educational, economic, and job opportunities; legal or justice system involvement; and social isolation.
AHCCCS has historically embraced the vital role social risk factors play in our member's health outcomes and addressed these complex issues through efforts to enhance service delivery of Medicaid covered services while also relying on a broad range of funding sources for services and supports not available under the Arizona Medicaid program.
In 2019, AHCCCS launched the Whole Person Care Initiative (WPCI) to enhance our existing efforts to identify and address the social risk factors which impact the health outcomes of our members. Current priorities for the WPCI focus on the following social risk factors:
Providing support for transitional housing, particularly for members being discharged from an inpatient behavioral health facility; individuals experiencing chronic homelessness; and, to reduce recidivism, individuals transitioning from correctional facilities with limited resources.
Exploring ways to leverage existing non-medical transportation services to support a member's access to community based services such as access to healthy food and employment services.
Utilizing the existing service array to model service delivery aimed at reducing social isolation for members utilizing the Arizona Long Term Care System (ALTCS) including consideration of a peer workforce to provide the services.
Partnering with the Arizona Health Information Exchange, Health Current, to establish a single statewide closed-loop referral system enabling health care providers to more easily screen and refer members to community based social services organizations to address social risk factors of health.
AHCCCS welcomes all partners to share in this effort to move from "health care" to Whole Person Care and strive to improve the overall health of the Arizonans we serve. We look forward to collaborating with managed care organizations, community-based organizations, tribal partners, providers, and other external stakeholders to further the Whole Person Care Initiative.
For the latest information about WPCI, please check out our WPCI News and Resources pages. If you would like to sign up for email notifications when new information becomes available: Update Me on Whole Person Care. You may also share ideas and feedback to AHCCCS by emailing us at WPCI@azahcccs.gov.